Here you will find a tasteful mix of old world and new

The Facilities at Mount Saint Anne's comprise of a nineteenth century Manor House with 36 en-suite bedrooms and many rooms suitable for retreat, conference, training workshops and relaxation.  Three of the above mentioned bedrooms are self-contained Poustinia for those who wish to have some quiet time with a self-catering option available.  These can be booked for a minimum of 2 nights up to a number of weeks at a time.
Our dining areas, where you can relax and enjoy excellent food, can accommodate up to 150 people.
We cater for:
Baptisms,
First Communions
Confirmations
Funerals
Any other Special Occasions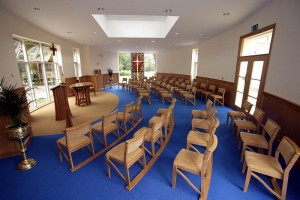 The new Chapel can accommodate up to 60 people.
There is a wonderful atmosphere of serenity to be experienced in the prayer and meditation rooms and you will find you can purchase tasteful books, music, cards etc. in our gift shop.
Our gardens and patios provide a safe, peaceful outdoor space with nicely appointed seating and walks.