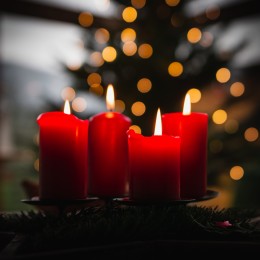 01 December 2022 - 04 December 2022

"Finding Our True Selves In The Season Of Advent"
This Advent retreat offers an invitation to explore what Christmas means to us personally and to discover that the greatest gifts we can give to our family, friends, community, parish and the world is the gift of God and the gift of ourselves!
The spirituality of Advent proclaims aspects our our divine nature – hope and faith, peace, love and joy.
Fr Willie invites us to through Scripture, worship, poetry, creation, meditation, prayer and affirmation – to contemplate ways to share the greatest gifts that God has given us: hope and faith, peace, love and joy and how we discover our true selves through these Advent gifts.
Facilitated by Fr Willie Purcell
Cost: €350 (residential)
The retreat begins with Supper on December 1st and ends with Lunch at 12.30pm on December 4th
Fr Willie Purcell is the parish priest of Clara, Kilkenny; he also works as the national vocations coordinator for Diocesan Priesthood and is a member of the Council for Immigrants for the Irish Conference of Catholic Bishops.  He holds a master's degree in Theology from St Patrick's College, Maynooth and has taught in secondary schools and third level colleges.  He hosts a Saturday morning religious programme 'Spirit Alive' on Community Radio Kilkenny City and writes for national magazines on religious and social affairs topics.  Fr Willie directs retreats and parish workshops in Ireland, England and the USA and is the director of the Kilkenny Gospel Choir.