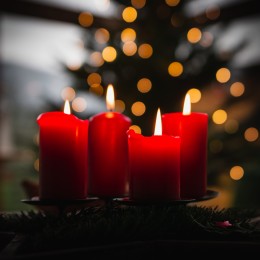 30 November 2023 - 03 December 2023

Advent Retreat: "The Lord Waits For You"
'THE LORD WAITS FOR YOU'
Thursday 30th November to Sunday 3rd December 2023
On our Advent Journey we reconcile the history of our lives, embrace the gift of the present and welcome the mystery of tomorrow. We walk with each other on the synodal pathway to that place of peace, reconciliation, and hope – to Bethlehem. In a style that is reverent, reflective, challenging and faith-filled, Fr. Willie Purcell reflects on the mystery and reality of our own Advent story as we make peace with our past, discover our personal truth and arrive where God wants us to be.
Facilitated by Fr Willie Purcell
Cost: €390 (residential)
Fr Willie Purcell is the parish priest of Clara, Kilkenny; he also works as the national vocations coordinator for Diocesan Priesthood and is a member of the Council for Immigrants for the Irish Conference of Catholic Bishops. He holds a master's degree in Theology from St. Patrick's College Maynooth and has taught in secondary and third level colleges. He hosts a Saturday morning religious programme 'Spirit Alive' on Community Radio Kilkenny City and also writes for national magazines on religious and social affairs topics. He directs retreats and parish workshops in Ireland, England and the USA and is the director of the Kilkenny Gospel Choir.
For bookings, email secretary@mountstannes.com